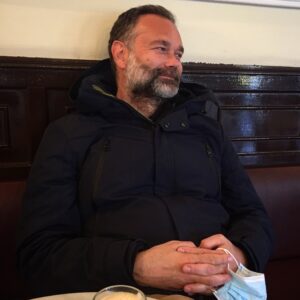 Centro: Facultad de Ciencias Sociales
Despacho: 410
Cargo /Estatus académico: Profesor Titular y Coordinador de la Unidad de Diversidad Afectivo Sexual y por Identidad de Género
Número de sexenios reconocidos: 3
Teléfono/Mail:  923 294 500 ext. 3520 / kerman@usal.es
Perfiles en redes sociales:
Google scholar: https://scholar.google.es/citations?user=0Zz3KW4AAAAJ&hl=es&oi=ao
Página personal Diarium USAL: https://diarium.usal.es/kerman
Líneas de investigación: Movimientos sociales; estudios LGTBI; sociología de la música
Docencia Actual: Sociología Jurídica (Grado en Criminología); Social and Political Movements in a Globalized World (Grado Global Studies); Political Protest (Master en Ciencia Política).
TRAYECTORIA E INTERESES
Soy Doctor en Sociología por la Universidad de Essex (Reino Unido) y Doctor Miembro del Instituto Juan March. Me incorporé al Departamento de Sociología y Comunicación en el año 2010,. Previamente había trabajado como investigador y docente en las Universidades de Essex ('Human Rights Centre'), UOC, Carlos III y Pompeu Fabra, así como en el Centro de Estudios Políticos y Constitucionales (como investigador 'García Pelayo'). He publicado sobre cuestiones relacionadas con los movimientos sociales ('Sexualities', 'South European Society and Politics', 'Revista Estudios Políticos', 'Revista Española de Sociología'), voto ('Revista Internacional de Sociología', etc) e igualdad ('Revista Española de Investigaciones Sociológicas', etc). Soy miembro del Grupo de Investigación de excelencia 'Grupo de Análisis Sociológico', dirigido por Modesto Escobar (Universidad de Salamanca). Dos Sexenios reconocido por la CNEAI (2000-2009; 2010-2015). Reconocido como 'excelente' en el programa 'Docentia-Usal' (2018). Mi página personal ofrece información detallada sobre mis actividades docentes y de investigación.
Enseño en los Grados en Criminología y Global Studies, y en el Master de Ciencia Política.